Eurozone agrees deal to bring Greece out of financial crisis

Greece Eurozone agrees deal to bring Greece out of financial crisis
Finance minister from 19 nations finalise plan to give country access to markets in August after final bailout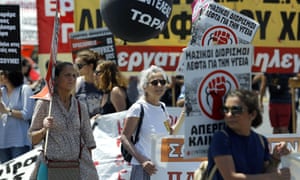 Eurozone nations have agreed on the final elements of a plan to get Greece out of its eight-year bailout program and make its massive debt more manageable.

The finance ministers of the 19 nations reached a su rprisingly hard-fought compromise after talks stretched into Friday morning.
The ministers needed to finalise a deal between Greece and its international creditors that would allow it to safely emerge from its third and final bailout program on 20 August and face the markets again.
Greece has really made the job â€" they have fulfilled their commitments

Bruno Le Maire, French finance minister
"Greek debt is sustainable going forward," said eurogroup president Mário Centeno. French finance minister Bruno Le Maire said going into the meeting that "we have to recognise that Greece has really made the job â€" they have fulfilled their commitments."
Centeno said under the deal, Greece could delay back repayment on billions in loans by 10 years, giving it a financial breather while stricter deadlines could have further choked the economy over the next decade. It also got another injection of €15bn.
Gre ece had already received €275bn in financial support from its international creditors over the past eight years. Over those years, Greece twice got perilously close to being kicked out of the eurogroup, EU commissioner Pierre Moscovici said.
"There have been enormous sacrifices," he said.
Even after its bailout program ends this summer, it will be under strict supervision of its policies.
Eurozone braces for row with Greece over bailout exit terms Read more
Still, Moscovici said, "at last after eight years of difficult reforms, of tough adjustments in our programs, Greece will be capable of moving on its own two feet."
Earlier, Germay's finance minister, Olaf Scholz, said: "There have been very good developments in Greece. The government and the people of Greece have done a very good job."
Greece has been surviving primarily on loans from the eurozone since 2010, when it lost market access to funds because of a balloo ning budget deficit, huge public debt and an underperforming economy, matched with an expansive welfare system.
Greece's third bailout is due to end in August. The debate between ministers at a meeting in Luxembourg centred on the how far to go in easing the repayment burden on those debts by extending maturities.
The decision is being heralded as a definitive end to the period when Greece looked like crashing out of the euro and destabilising the single currency.
Greece is posting economic growth of 1.9% this year after seeing its economy contract by 26% since 2010. Unemployment has dropped slightly this year but remains at 20% with youth unemployment at 43%
The Greek prime minister, Alexis Tsipras, has forced through tough reforms that have helped balance the country's books. Wages have fallen by nearly 20% since 2010 with pensions and other welfare payments cut by 70% in the same period. The size of the public sector has been cut back by 26%.

Investors have been encouraged by these measures with Greece's borrowing costs at around 4% compared to 24% at the depth of the crisis.
Topics
Share on Facebook
Share on Twitter
Share via Email
Share on LinkedIn
Share on Pinterest
Share on Google+
Share on WhatsApp
Share on Messenger
Source:
Google News Greece
|
Netizen 24 Greece